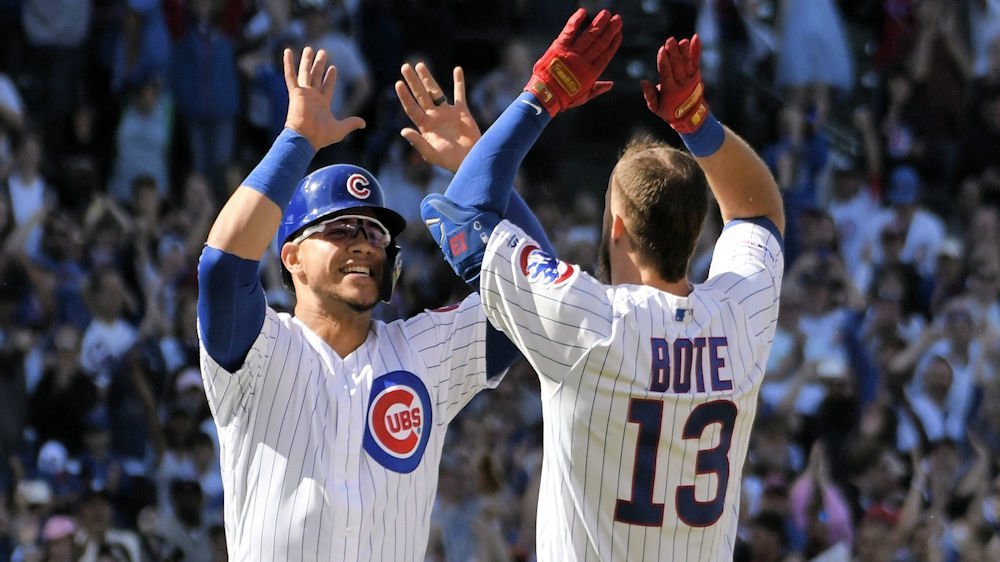 | | |
| --- | --- |
| Cubs News: Fly the W with Bote Ball, Chatwood amazes, Rizzo's bat, standings, more | |
---
| | | |
| --- | --- | --- |
| Monday, April 22, 2019, 8:01 AM | | |
Next Game: Off day today, then Tuesday at 7:05 PM CDT, Dodgers vs Cubs. RHP Kenta Maeda (3-1, 3.80 ERA) vs LHP Jose Quintana (2-1, 3.43 ERA).
CUBS NEWS AND NOTES:
Sunday's Game Recap: The D-Backs (11-10) looked to RHP Robbie Ray for the rubber match, while the Cubs (9-10), sent righty Tyler Chatwood to the hill for a spot start. Chatwood would not disappoint.
Chatwood delivered six solid innings, finishing the day with the game tied 0-0 going into the bottom of the sixth. The Cubs would string together a run after Rizzo was beaned followed by Baez's triple. After Pedro Strop gave up a one-out, game-tying home run in the top of the ninth, Baez would double, taking third on an error, followed by Willson Contreras who was pegged. With runners at first and third with no one out, David Bote's walk-off single would seal the deal, with a final score of 2-1.

Dodgers/Cubs Probable Pitchers: Wednesday: RHP Walker Buehler (2-0, 5.40ERA) vs LHP Cole Hamels (3-0, 2.77 ERA). Thursday: RHP Ross Stripling (1-1, 3.07 ERA) vs Kyle Hendricks (1-3, 3.54 ERA)
Tyler Chatwood: Chatty silenced a lot of naysayers yesterday, as he was nearly flawless. Despite giving up a pair of walks and as many hits, the D-Backs never had a baserunner reach second base for the 6.0 innings Chatwood pitched. Final line: 6.0 IP (71 pitches), 0-R, 2-H, 2-BB, 3-K. Twenty-two batters faced. Joe Maddon had pre-determined that Chatwood would go 75-80 pitches, but I guarantee Maddon never expected to get through 6 frames under the pitch allowance. Unfortunately for Chatwood, he received no decision due to Pedro Strop giving up a homer to tie the game in the ninth.
Hugs & high fives for Tyler Chatwood, who threw 6 scoreless innings in his 1st start of the season. 3Ks & 2walks...he was terrific. Kyle Ryan takes over in the 7th #Cubs up 1-0 over AZ. pic.twitter.com/HvemKWkPpq

— Kelly Crull (@Kelly_Crull) April 21, 2019
Javier Baez: Javy went 2 for 3 (with a walk) on Sunday, but boy, he made them count. A sixth-inning triple scored Anthony Rizzo from 1st, then in the bottom of the 9th, a leadoff double down the right-field line was stretched into three bases, when the right-fielder made the fatal mistake of bobbling the ball. Baez's triple in the sixth marked his 500th career extra-base hit.
When you hit @ARizzo44, then you get to deal with @javy23baez.#EverybodyIn pic.twitter.com/XI1QE4Qhyy

— Chicago Cubs (@Cubs) April 21, 2019
Anthony Rizzo: Rizzo may be starting to think that his slump was all just a bad dream. Rizzo went 2 for three on Sunday with a single and double, increasing his OBP for the Arizona series to an astronomical .692 (reached on 9 out of 13 plate appearances). While his two hits yesterday would be wasted, the Cubs cashed in during the sixth after Rizz was hit by a pitch, as Javy's 3-bagger brought him home.
David Bote In addition to collecting another walk-off hit to add to his collection, David Bote ducked out quickly after his post-game interview with Kelly Crull, as he had to catch a flight. His wife was having labor induced last night. Congratulations to David, his wife, Rachel, and their newborn child.
#OnTheDiamond: Today's hero, @DavidBote13, catches up with @Kelly_Crull...before catching a REALLY IMPORTANT FLIGHT. (@JandSJewelers) pic.twitter.com/b7eTiZbatV

— Cubs Talk (@NBCSCubs) April 21, 2019
Roster moves: Before yesterday's game, the Cubs optioned reliever, Randy Rosario to Triple-A Iowa and recalled reliever, Alec Mills.
Kris Bryant: Despite the ugly slump, Bryant says he's unaffected. "I give it all I've got, and at the end of the day I can sleep at night." I have some mixed emotions here. On the one hand, all you can do is expect the guy to go out there and give it 100% every day, but on the other hand, the attitude seems a little cavalier for a guy who's supposed to be one of the cornerstones of the team. As of yesterday morning, Bryant was hitting .239 with only one homer this season.
Fergie Jenkins It was 53 years ago yesterday, that the Cubs made a routine trade for a pitcher in April of 1966. No one knew it at the time, but that future Hall of Fame pitcher would hurl for Chicago for 10 of the next 18 seasons, posting a 167-132 record (.559), and a 3.20 ERA, while striking out a total of 2,038 batters of the 10,898 that he faced (18.7%), over the course of 2,673.2 innings. After his retirement, the Cubs retired jersey #31 in his honor. His name is Ferguson Arthur Jenkins, but you can call him Fergie.
At the time it seemed like a simple April trade, but it would later prove to be a franchise-changing move when the @cubs acquired @31fergiejenkins #OTD in 1966. https://t.co/3HcTdxcgul pic.twitter.com/vHRhAsgN9r

— Baseball Hall ? (@baseballhall) April 21, 2019
Yesterday's Cub Birthdays: Happy birthday to ex-Cubs Les Lancaster (57) and posthumously, Bill Faul (79) and Philip "Lefty" Weinert (117).
NL CENTRAL SCHEDULE (April 21 – April 27, 2019)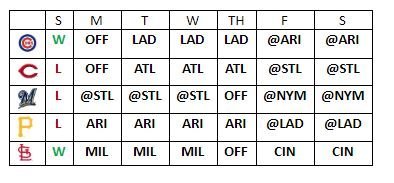 YESTERDAY'S NL CENTRAL SCOREBOARD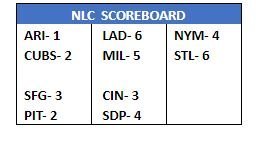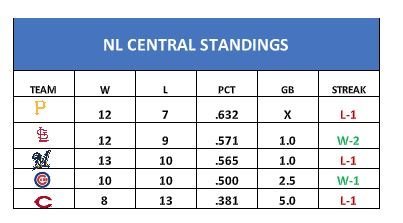 Tags: Cubs Baseball
,
Jose Quintana
,
Tyler Chatwood
,
Pedro Strop
,
Willson Contreras
,
David Bote
,
Cole Hamels
,
Kyle Hendricks
,
,
Randy Rosario
,
,
Anthony Rizzo
,
,
Joe Maddon