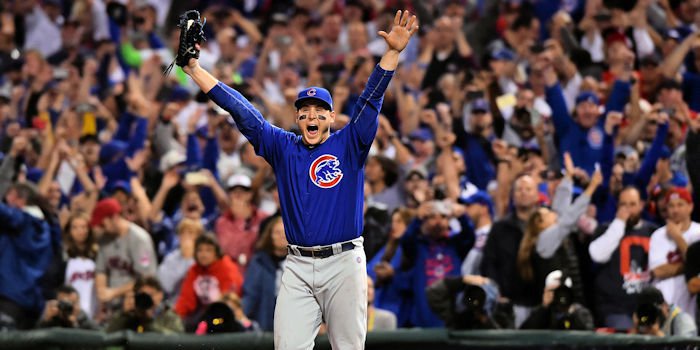 | | |
| --- | --- |
| What will the Cubs roster look like in 2017? | |
---
CHICAGO -- While we as fans still celebrate and try to learn what it is like to live in a world where the Chicago Cubs won the World Series (this will never get old to hear), next season has already begun for Theo Epstein, Jed Hoyer, Jason McLeod and many others in the organization. For a team that is coming fresh off of a championship, they have the potential to bring back nearly the same team, but with another year of development to their young stars and big game/playoff experience.
Pitching
Starting Rotation:
1. Jon Lester
2. Jake Arrieta
4. John Lackey
5. ?
No question of who four of the starting five will be going into 2017, the debate will be in what order the rotation will be and who will slide into that 5th spot. With Jason Hammel not having his team option picked up -- rightfully so with the $10 million price tag -- this makes for an interesting decision for Theo and company. If they decide to keep the job internal, the obvious candidate is Mike Montgomery. In his limited time as a starter and when he pitched extended innings in relief, Montgomery performed very well. It would be tough to see his left arm leave the bullpen, but Rob Zastryzny can step right in to take that role.
Bullpen:
LHP: Zastryzny
RHP: Justin Grimm, Pedro Strop, Carl Edwards Jr., Hector Rondon
Free Agents: Trevor Cahill, Travis Wood, Joe Smith, Aroldis Chapman
Here lies where the Cubs will see the most potential change next year. You may see Cahill back as Joe Maddon is a big fan and he can go a few innings in a night, but I expect him to go elsewhere. Travis Wood may be looking to become a starter again, and if that is the case, he would be on a different payroll. Joe Smith was a quiet addition at the trade deadline and never found his niche with the Cubs, and will most likely depart.
The big name is Chapman, and he will be getting a HUGE contract offers across the league that the Cubs would probably not match. Keep in mind that even though the Cubs did trade their top prospect, Gleybar Torres, away mid-season, he plays shortstop. There are a couple of guys already at the big league level who have the middle infield locked up for a long time at Wrigley that would have served as a road block for Torres. Chapman helped the Cubs win the World Series. Even if he walks away, right back to play for the Yankees, the trade was 100% worth it.
There will be multiple spots to fill in the bullpen that the Cubs will have to look externally for via trade or free agency. There are some big names on the market for the coveted closer role – Kenley Jansen, Mark Melancon – but they also will be getting a lot of money thrown at them by nearly every team in the league. I see Theo not going after these big names and making mid-level deals to fill holes from a trade or signing while hoping that Edwards Jr, Grimm, and Zastryzny keep progressing with Strop and Rondon not to keep regressing. This also paves the way for prospects in the system such as Dylan Cease to crack the MLB roster.
Position Players
Catcher: Willson Contreras, Miguel Montero
Contreras is your catcher of the future and is still learning how to play the position. That is scary for the rest of the league. With that arm, he will be able to control the run game and be your everyday catcher. After Montero's comments post-parade this may put the front office in a position where they have to trade the backup catcher away. He seems to be wanting a bigger role, and that is not going to happen with the Cubs anymore.
First Base: Anthony Rizzo, Anthony Rizzo, Anthony Rizzo
The Cubs have a pretty decent first baseman, no changes here. Kris Bryant and Javier Baez will spell him as needed.
Second Base: Ben Zobrist, Javier Baez, La Stella
Ben Zobrist produces excellent at bats day after day, and that was contagious to the rest of the team all year. La Stella is interesting because he produced the only ugly noise that has come from the Cub's clubhouse in recent years after he was DFA in August. I would not be surprised if they kept him, as he is a Joe Maddon favorite, and he is a left-handed bat off the bench. He is under contract, so it would take a trade for him not to be a Cub. Baez has the potential to be great. If he can control his swing and not try to be a hero on every pitch (as the Giants and Dodgers will agree) then he is an all-star talent. Baez will continue to be debatably the best bench player in the league next year unless Fowler goes elsewhere.
Third Base: Kris Bryant, Javier Baez, Tommy La Stella
Kris Bryant will be here for the more games in 2017 than he was in 2016 because Kyle Schwarber returns and left field no longer is going to rotate starters. When Bryant needs rest or does play in the OF, Baez will be the first in and if they decide to keep La Stella he would be the following to see the field.
Shortstop: Addison Russell, Javier Baez
Addy showed considerable growth from year one to year two with his power along with clutch at-bats and is debatably the best defensive shortstop in the NL along with Brandon Crawford. His next step would be to show more consistency at the plate. He is a very streaky hitter, and when he is on, he is nearly impossible to get out. But when he is cold, it seems like any breaking ball thrown towards the plate will get him to bite. Baez is a true shortstop and will play here as needed as well.
Outfield: Starters if Dexter Fowler stays – LF Kyle Schwarber, CF Dexter Fowler, RF Jason Heyward Starters if Dexter Fowler leaves – LF Kyle Schwarber, CF Jason Heyward, RF Ben Zobrist
Also available – Jorge Soler, Albert Almora, Chris Coghlan, Matt Szczur
"You go, we go." Fowler was the guy all season who if he got on base, the Cubs seemed nearly impossible to beat. With him staying he in town he remains your everyday CF with Almora being the first guy off the bench for all three positions. If he decides to leave Chicago, I see Heyward sliding into center and Zobrist filling in RF. This allows you to make Baez an everyday starter and have him get his chance to be a full-time star.
Schwarber will remain in LF, maybe catching a game here or there. Jason Heyward will have a better year than last; I am saying that because unfortunately, he can't get much worse.
Soler has to be traded in my opinion. There is no place for him to play as much as he should be on this team, and he is much too skilled of a player to be on the bench. With his potential, a package with him included can bring an excellent return and can help strengthen the bullpen or get another dependable starter. Szczur will stay on the roster and is a very solid backup outfielder with good speed as a pinch runner. Coghlan is a free agent and will more than likely get a better offer from another team and pack his bags for the second straight year.
Overall, the Cubs will be the favorite to start the 2017 season and are stacked with young talent. The offense will be even better next year with the growth of young players, Schwarber, and Heyward fixing his swing. Do not expect a repeat of the starting pitching in 2016 – those were historic numbers. The pitching will still be splendid but might drop off a bit numbers wise. The Cubs have an excellent chance at increasing their win total of 103 games and becoming back to back World Series champs. Let that soak in; it is a fabulous time to be a North Sider!

Upgrade Your Account
Unlock premium boards and exclusive features (e.g. ad-free) by upgrading your account today.
Upgrade Now

Tags: Cubs Baseball
,
Anthony Rizzo
,
Kyle Schwarber
,
,
,
Tommy La Stella
,
Addison Russell
,
Ben Zobrist
,
Dexter Fowler
,
Jason Heyward
,
Jorge Soler
,
Matt Szczur
,
John Lackey
,
Travis Wood
,
Hector Rondon
,
,
Kyle Hendricks
,
Miguel Montero
,
Pedro Strop
,
Jason Hammel
,
Justin Grimm
,
Jake Arrieta
,
Trevor Cahill
,
Chris Coghlan
,
Willson Contreras
,
Mike Montgomery
,
Aroldis Chapman
,
Joe Smith
,
Joe Maddon
,
Theo Epstein