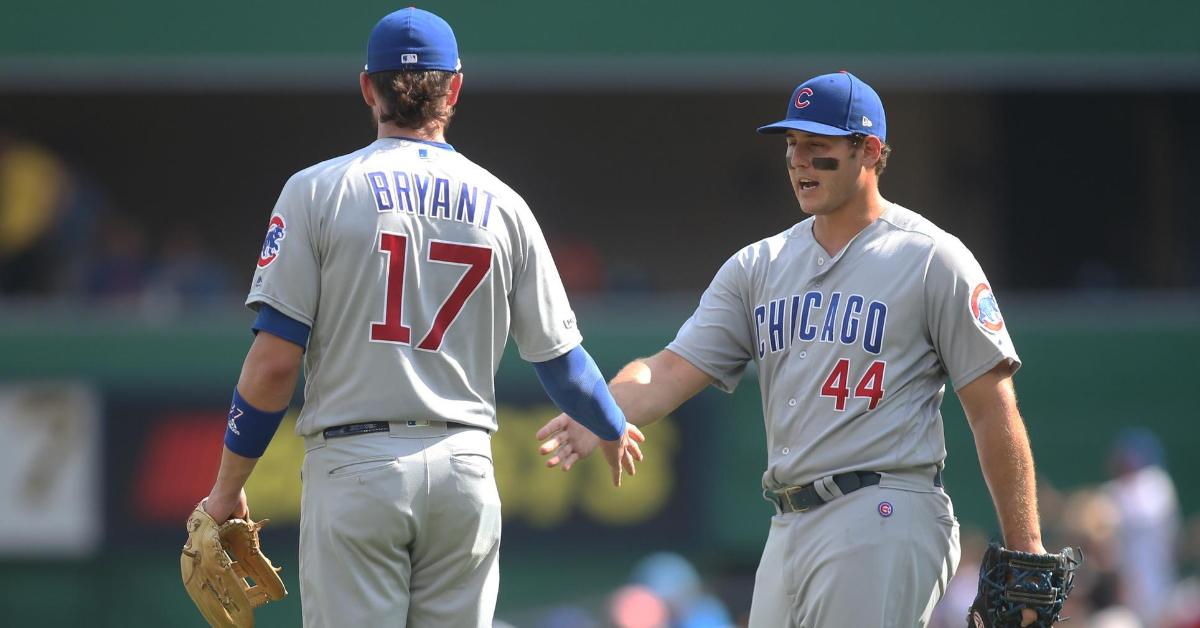 | | |
| --- | --- |
| Cubs News and Notes: Fly the W, Cubs' injury updates, Maddon on Almora, more | |
---
Next Game: Today: LHP José Quintana (10-7, 4.11 ERA) vs RHP Mitch Keller (1-1, 7.94 ERA). Game time 6:10 PM CDT; ESPN.
Saturday's Game Recap:
After predicting that the Cubs would finally capture a road-series win during the series in Pittsburgh, Friday night's loss meant that they had to win yesterday afternoon, and then again tonight.
It looked the Cubs were going to fall behind early, as Jon Lester worked hard in the first, creating a bases-loaded jam with just one out. A great grab by Kris Bryant on a line drive would give the Cubs a second out, then a popup to Heyward would get Lester out of the jam. Whew.
Brault, on the other hand, had been brilliant, carrying a no-hitter into the fifth, when Addison Russell managed to get an infield single, but that's as far as it would go.
Lester and the Cubs got themselves into trouble again in the fifth, when two walks and a throwing error by KB would load the bases with nobody out.
Lester would induce a flyout to Castellanos, followed by a strikeout and then a fly ball to Jason Heyward, to escape damage again. 0-0 after five.
The Cubs would break the scoreless tie in the seventh, when KB launched one into the leftfield stands- certain redemption for the pair of errors he committed earlier in the day.
Take me out and take me home. #KBoom pic.twitter.com/lhE3nP7rLG

— Chicago Cubs (@Cubs) August 17, 2019
Lester would be done after seven, with the Cubs still leading 1-0. The question at that point was whether or not the Cubs would waste a third-consecutive quality start by the rotation. Tyler Chatwood would pitch himself into a bit of a jam in the seventh, but as he often does, he'd induce a groundball to get himself out of it.
Chatwood to make 1st appearance since Aug. 8

— Mark Gonzales (@MDGonzales) August 17, 2019
The Cubs would attack again in the eighth, snatching a run after Ian Happ squeezed a groundball through the infield, then took third on Jonathan Lucroy's single to center. With Chatty at-bat and trying to bunt, Pirates' catcher, Elias Diaz, would get the bright idea to try to back-pick Happ off of third, and wound up throwing the ball into left field. Cubs lead 2-0 in the eighth.
Chatwood would keep the shutout alive through the end of the eighth, and then Rowan Wick would shut it down in the ninth. Fly the W, play the song, and put this one in the books. Cubs win (ON THE ROAD) by a final of 2-0.
Lester battles, KB homers, 'pen shuts it down.

Recap: https://t.co/JsWSMz7qm9 #EverybodyIn pic.twitter.com/qyr4nuej7a

— Chicago Cubs (@Cubs) August 17, 2019
CUBS NEWS AND NOTES
Cubs/Giants Probable Pitchers: Tuesday: LHP Cole Hamels (6-4, 3.69 ERA) vs Giants TBD. Game time 7:05 PM CDT; NBC Sports Chicago+. Wednesday: RHP Yu Darvish (4-6, 4.21 ERA) vs Giants TBD. Game time 7:05 PM; NBC Sports Chicago. RHP Kyle Hendricks (8-9, 3.37 ERA) vs Jeff Samardzija (9-9, 3.54 ERA). Game time 1:20 PM CDT; WGN, MLB Network (out of market only).
Cubs' Injury Update: By all accounts, Craig Kimbrel is progressing well with his knee injury, but no timeline has been given. Steve Cishek says he's healed and ready for a return to the team, but the Cubs have not decided on whether on not Shrek will pitch a rehab game.
Cishek said pen session went well, pain free, believes he's ready for major league game but nothing guaranteed

— Mark Gonzales (@MDGonzales) August 17, 2019
Things have been relatively quiet about Ben Zobrist's comeback (since he was moved to Iowa), which could be a little concerning. However, reports last said that he was doing well. Ben's offensive numbers haven't been great between since he began his rehab stint, slashing only .217/.357/.478 in 28 minor league plate appearances, though he's tallied five doubles, a pair of homers and 3 RBI.
Zo's appeared in four games with Iowa, slashing .250/.250/.500 with a .750 OPS, though those numbers are a bit deceiving. He's not yet tallied any RBI, nor any extra-base hits and is 1 for four overall with two walks and a strikeout.
Little League Classic: When the Cubs and Pirates meet tomorrow to play the Little League Classic, Joe Maddon says his message will be to have fun and run hard to first. Maddon says, "They don't need to hear about launch angles."
How was work today, Jon? Big Jon didn't have a bad day yesterday, but he continues to grow increasingly frustrated with the home plate umpiring.
6+ IP
4 H
0 R
1 GIF

????@JLester34 #EverybodyIn pic.twitter.com/QrYlhx5QJR

— Chicago Cubs (@Cubs) August 17, 2019
Give credit where due: I've always prided myself on giving someone credit when due. Today, the hat tip goes to Ian Happ for this run-saving catch in the seventh. NICE job.
A nice, relaxing ballgame.

Right? pic.twitter.com/SRVMfVPShY

— Chicago Cubs (@Cubs) August 17, 2019
Tyler Chatwood: Chatty discusses his lack of playing time and how he stays ready…
Chatwood on staying sharp:? pic.twitter.com/qf5rTkWQXl

— Mark Gonzales (@MDGonzales) August 17, 2019
Discussing Chatwood, Jon Lester says, "He's kind of pigeonholed in an in between spot… We have to figure out how to use him. It's such an electric arm, such electric stuff, you want to get him in the game somehow. It's just figuring out how."
Maddon on Almora: Many (including myself) were a little shocked to see Albert Almora Jr. sent to Iowa. I get it- the Cubs needed something a little more solid at second base (Addison Russell), and even though Ian Happ's defensive skills at second aren't the best, his bat's certainly been hotter than Almora's.
Maddon on Almora: pic.twitter.com/NxgrgGudlE

— Mark Gonzales (@MDGonzales) August 16, 2019
A not so fun stat: Friday night marked the first time that Chicago has lost consecutive nine-inning games, despite leading after eight innings, for the first time since July 25, 1960, when they lost back-to-back contests against the Phillies and Reds at Wrigley Field.
Distributing the blame: An ESPN 1000 poll asked who fans were mad at the most, about the Cubs' performance. With 800 votes cast (and 19 hours left to voice your opinion), 41% blamed the players, 24% blamed Theo Epstein, only 14% blamed Joe Maddon, and 54% put this squarely on the players' shoulders.
Cubs Fans: Who are you mad at most?#EverybodyIn

— ESPN 1000 (@ESPN1000) August 17, 2019
Who do you trade? In another ESPN 1000 poll, the question asked was who fans would trade this winter: None, Anthony Rizzo, Kris Bryant or Javier Baez. With 1,000 votes cast (and 18 hours remaining), 53% said nobody, while Rizzo earned 10%, KB earned 34%, and Javy got 2%.
Cubs Fans: Which of these players would you trade this winter?#EverybodyIn

— ESPN 1000 (@ESPN1000) August 17, 2019
I think you will see the core disrupted after this year, as it just isn't working anymore. Too many components need to be obtained, and Kris Bryant is the guy who'll fetch the most. Indeed a shame, as Bryant has had a phenomenal season, but I think Tom Ricketts, Theo Epstein, and Jed Hoyer are going to be looking at a situation where they're going to need: (1) At least one starter (unless they introduce Tyler Chatwood back into the lineup and re-sign either Jose Quintana or Cole Hamels); (2) Several relievers, including a solid set-up man (Pedro Strop won't be re-signed, and Brandon Kintzler will be a free agent); (3) A strong middle infielder (Addison Russell may be done, and Tony Kemp won't be re-signed) and (4) Some offensive power in the form of a leadoff man.
It's been a good run, but unfortunately, it's time for change.
Carlos Zambrano: Think Carlos Zambrano has any shot at an MLB comeback? Before you answer, consider this:
38-year-old Carlos Zambrano touched 97 tonight for @TheChicagoDogs in winning effort.@PitchingNinja pic.twitter.com/N9GsQzkJ8V

— Steve Schuster (@growcasting) August 17, 2019
Baseball Quotes: "My motto was always to keep swinging. Whether I was in a slump or feeling badly or having trouble off the field, the only thing to do was keep swinging." -Hank Aaron
It's hard to beat a person who never gives up. -Babe Ruth pic.twitter.com/T14RdN9ErI

— Baseball Quotes (@BaseballQuotes1) August 16, 2019
Cubs Birthdays: Celebrating yesterday, were Victor Caratini (26) and ex-Cubs Thomas Neal (32), Bill Landrum (62), and posthumously, John Buzhardt (83).
Happy Birthday to the super versatile @VictorCaratini ???? pic.twitter.com/coUzD71b1j

— Cubs Talk (@NBCSCubs) August 17, 2019
THIS WEEK'S NL CENTRAL SCHEDULE:
(Wins in green, losses in red)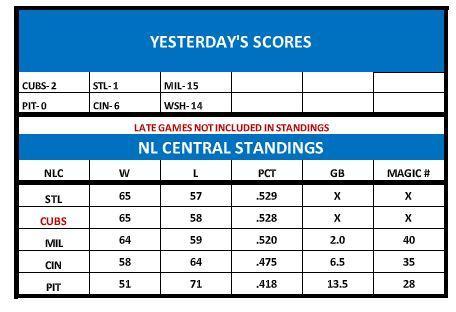 Tags: Cubs Baseball
,
,
,
Addison Russell
,
Jason Heyward
,
Tyler Chatwood
,
,
Rowan Wick
,
Cole Hamels
,
Yu Darvish
,
Kyle Hendricks
,
Steve Cishek
,
Ben Zobrist
,
Albert Almora Jr
,
Anthony Rizzo
,
,
Jose Quintana
,
Pedro Strop
,
Brandon Kintzler
,
Victor Caratini
,
Joe Maddon
,
Theo Epstein