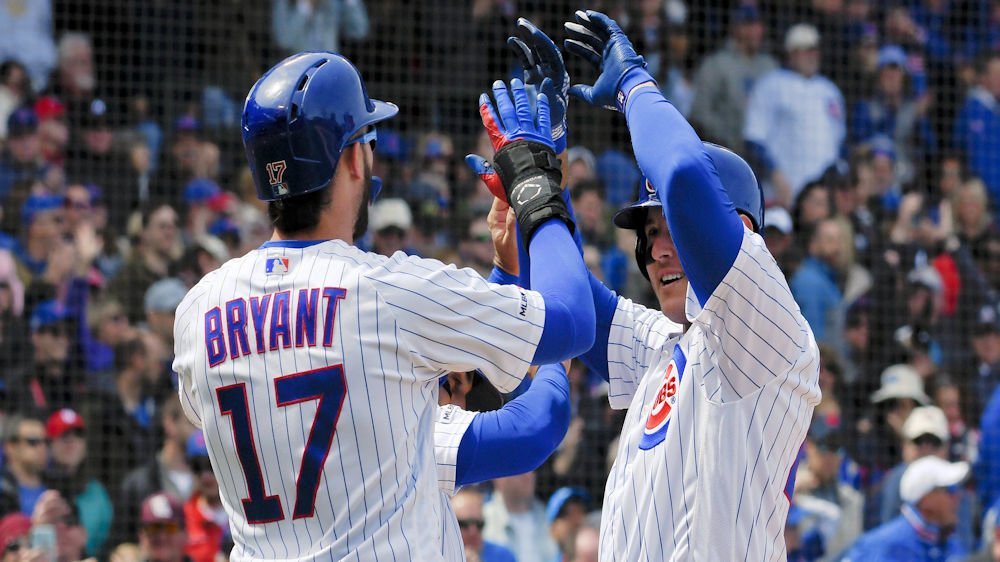 | | |
| --- | --- |
| Commentary: Are the Cubs ready for the second half? | |
---
| | | |
| --- | --- | --- |
| Thursday, July 11, 2019, 8:12 PM | | |
The Cubs played ugly baseball for the first half of the season, and little, at least openly, was done during the All-Star break to improve their overall status. That's not to say that Theo Epstein won't get busy (soon), as he has only 19 days left to reconfigure the Cubs to whatever he, Jed Hoyer and Tom Ricketts envision going forward. Everyone believes that changes are imminent, but much like last winter, the clock is ticking, and nothing's changed yet.
The thing about the All-Star break that has surprised me the most is Joe Maddon's status. I'm torn on what the Cubs need to do with him, but I thought for sure a decision, and some announcement would be made regarding his status. While I'm not suggesting that Epstein would have climbed atop a mountain and announced that Joe was staying, I would have thought he'd have referenced it passively in some comment- "I think the guys and Joe will have a good second half…", but nada.
The conundrum, as I see it, is that they almost can't fire Maddon at this point. No decision's been made during the break, which would have been the right time if that is, in fact, the ultimate plan. It's a risky move, but no more than the risk they'll be taking, as they move on with things unchanged. Bringing in a new manager now could be dicey, but it may also behoove them to do so, as they move forward. A half-season under a new skipper now would provide them time to start getting adjusted, and I believe it would give them a head start in 2020. While the sides are mixed as to whether Joe stays or goes now, I think it's clear that the end of 2019 will probably signify the end of the Maddon Era.
Do I sound negative about the rest of 2019? I think negative is a strong word, but I'll own up to being extremely pessimistic at this point. This team cannot, and will not, advance in October if things don't change, and I don't give a damn who they trade for, one or two guys are not going to turn this around. Period. Look at Craig Kimbrel. I love the guy, but he's had two save opportunities in two weeks. Why? Because the offense isn't keeping themselves in games. This team has the absolute ability to be conquering the National League, but they just aren't performing- they haven't done it this season with any regularity, and they didn't do it last year during the most critical times. You cannot continue to do the same things and expect different results.
Moving on to the offense, the Cubs have got to buckle down and start hitting for contact, rather than power. We all know they can homer, and for whatever reason, the balls now like to fly for miles, but not every hit needs to be a dinger into the centerfield seats. Their first-half stats with runners in scoring position are horrific. The last I checked, they batted something like .242 with RISP, but when home runs were factored out, their average with RISP dropped to about .223. That equates to less than a one-in-four chance of hitting with men on, and they only give you three outs per inning.
It's not just about putting the ball in play either- it's about hitting at the right times. I could go back through the scores this year and find no less than probably 40 games where the Cubs had seven or more hits, but only scored two runs or less. The Cubs have been good at cultivating rallies with two away, but again, there are frequently missed chances to score prior to the two-out mark.
Joe Maddon has never been overly aggressive with his offense, but he's become more and more conservative with the running game as each season passes. In 2015 Maddon commanded stolen (second) base attempts at a rate of 9.8%. In 2016, that number dropped to 8.4%, then declined in 2017 to 8.1%. Last year, the Cubs attempted to steal second only 6.6% of the time, and this year it's only 4.9%- or precisely half as often as 2015.
The Cubs need to exploit what speed they have, start stealing bases, use the hit and run and bring back the bunt, do anything they can, to make the pitchers, catchers, and infielders concentrate more on the baserunners than the batters. I remember Tyler Chatwood reaching base recently, and getting so far in the pitcher's head, that he caused him to balk. THAT is heads-up baseball. Be aggressive.
I won't even name names here; they're all guilty. Every guy on that roster can hit effectively (well, maybe not Daniel Descalso, but like I said, no names…), but they're so ultra-focused on stats and potential future income (free-agent contracts), that they're failing to return to the basic premise of putting balls in play. Few and far between, are the guys who'd rather have a few singles, than a home run.
I see why everybody is screaming for a "real" leadoff man, but I think the Cubs can find one in the dugout. The problem is, it's going to take trial and error to find the right guy, and the Cubs have only 72 games to figure this out. Maybe acquiring a guy who's played the leadoff man effectively would be a bonus, but whoever that is, he's not coming free, and God help them if they deal away a key player or top prospect and this acquisition turns out to be a bust.
Pitching- sigh. The Cubs' rotation, who struggled almost simultaneously for a while, will begin the second half at a disadvantage. The Cubs will be without Cole Hamels, who's still on the injury list due to an oblique strain. Hamels was expected to be back after the break, but to date, no announcement has been made by the team.
Based on his last outing, Kyle Hendricks still appears to be fighting the shoulder injury that put him on the IL, as control was an issue for him throughout the start. Hendricks never had a rehab start after this injury, and while the Cubs were going to give him 70 pitches or so against Pittsburgh, a rain delay caused him to shut down earlier than planned. Pitching again on five day's rest, Hendricks took the mound against the White Sox last Sunday, hurling 86 pitches in just four innings, but it was undeniable that he was having trouble getting to the edges of the strike zone. Hendricks doesn't have the velocity to challenge hitters in the heart of the zone, so he relies on control to frustrate the opponent into swinging at pitches near or just outside the fringe. When he fails to do this effectively, he gets hammered.
Yu Darvish has been just about the most unpredictable guy in this rotation during the first half, and I think he'll either breakout or breakdown, moving forward. His strikeout numbers are insane, 111 to date, this year, but he can't get a decision- much less a win- to save his life. In 18 outings this year, Yu has gotten just six decisions, the last coming after ten straight no-decision games. I said all winter long that the best thing to do with Yu Darvish is for the Cubs to eat their losses, put him in the pen (at least for this year), and make a middle reliever out of him.
Jon Lester worries me a little bit. He seems to be grinding hard with every pitch, and he looks like he's tiring faster- no need for you to point out the obvious- I know, he's aging, but the difference I'm seeing goes beyond another year of life. Jon's always had a temper when umpires are cheating him out of strike calls, but his fuse seems shorter this year than it ever has. Bad calls, balls flying out of the park, and horrific errors by his teammates aren't helping matters. Lester's struggles with his outings have improved. However, two of his last three have been solid.
All Jose Quintana needs to find the groove he was in when the season began. I've used two words to describe Quintana since he joined the Cubs, and I stand by those words today: Quietly solid. Q has had some bad outings, but he's been shelled twice this year, after being hung out to dry, thanks to a bullpen crisis. Maddon did it to him in Milwaukee in April (8 ER in 4.0 IP), then let him take a beating again against the Mets in late June (8 ER in 4.1 IP). Q is not a guy who's normally going to give you eight or nine innings, but if he has his mojo, he's good for five to seven. The one thing about Quintana is that he either has it, or he doesn't, and this is something Maddon needs to recognize.
Every time I write about the Cubs' bullpen as a whole, my blood pressure rises. Brandon Kintzler has been a star, Steve Cishek has been good, but has sporadic issues, and Pedro Strop looks like a new man, now that he isn't closing. I already hear fans whining that Craig Kimbrel's ERA is currently 12.27; yes, it is, but that'll change soon enough. Don't worry about Kimbrel, worry about the offense, who needs to keep the Cubs in the game so that Kimbrel can get a chance.
A lot will depend on how this team starts the second half, and they're doing it against a red-hot Pirates team. The Cubs will face divisional opponents in 45 of their remaining 72 games, and if they want any chance at advancing to the playoffs, they need to get their heads on straight.

Tags: Cubs Baseball
,
Tyler Chatwood
,
Daniel Descalso
,
Cole Hamels
,
Kyle Hendricks
,
Yu Darvish
,
,
Jose Quintana
,
Brandon Kintzler
,
Steve Cishek
,
Pedro Strop
,
Joe Maddon
,
Theo Epstein