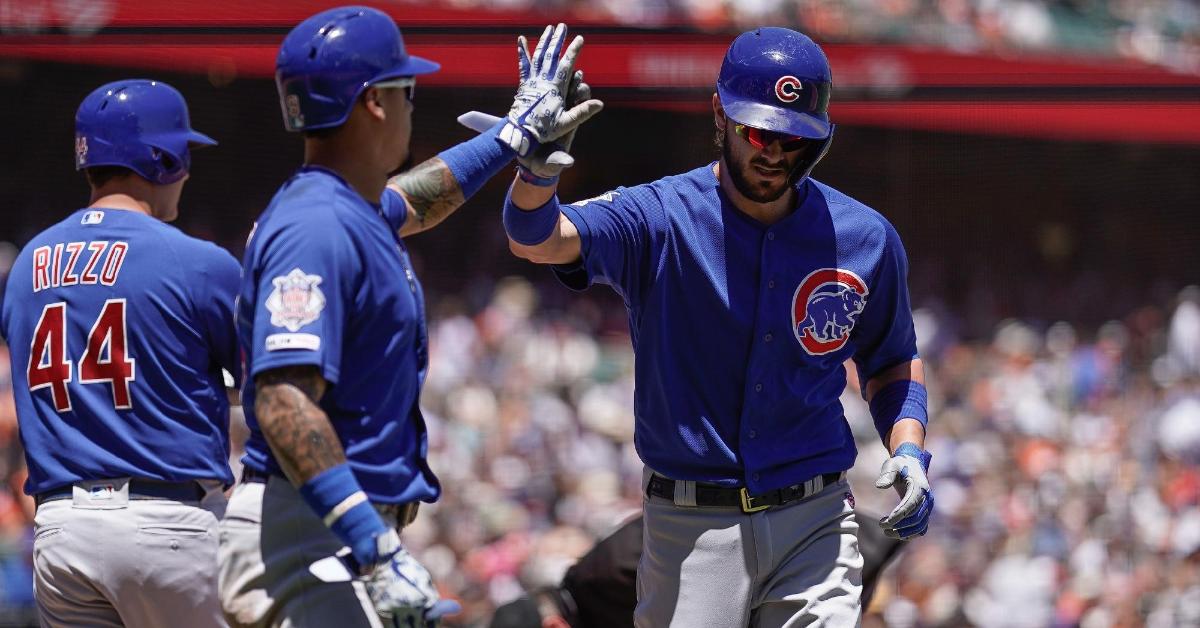 | | |
| --- | --- |
| Cubs News and Notes: Fly the W, Maddon on Russell's demotion, Zobrist, Trade news, more | |
---
| | | |
| --- | --- | --- |
| Thursday, July 25, 2019, 8:16 AM | | |
Next Game: Friday, 7:10 PM (NBC Sports Chicago): LHP Jose Quintana (8-7, 4.42 ERA) vs Gio Gonzalez (2-1, 3.60 ERA).
Yesterday's Game Recap:
Hoping to salvage their pride and one of the three games in San Francisco, the Cubs and Giants did battle in game three yesterday. Jon Lester was scratched due to an undisclosed illness, so Joe Maddon decided to send Tyler Chatwood to the mound to fill in.
It was Javier Baez's turn to get the Cubs on the board in the first inning, as he smashed a bomb to left field on the eighth pitch of the game (first pitch to Javy).
Javy gets us underway with No. 25! #EverybodyIn pic.twitter.com/FEF6E9f5ow

— Chicago Cubs (@Cubs) July 24, 2019
In the top of the third, Baez hit what should have been a triple, but a rather strange turn of events left Javy on second. The ball Javy hit wound up wedged under the padding in Triple Alley. When the right-fielder (Yastrzemski) threw up his arms- as they do when a ball disappears in the Ivy at Wrigley, the play should have been ruled a ground-rule double, but instead, he then reached for the ball, as though the play was live. Umps ruled it a double. The Cubs would add another pair in short order though, courtesy of Kris Bryant's blast, with Javy on base, making it 3-0 Cubs.
Ground rule homer. #KBoom #EverybodyIn pic.twitter.com/necmnUg5o6

— Chicago Cubs (@Cubs) July 24, 2019
The Giants would get a run in the third, But Albert Almora Jr. would rectify that in the fourth. 4-1, Cubs.
.@albertalmora extends our lead with his 10th homer!#EverybodyIn pic.twitter.com/S0CsOzf4Hx

— Chicago Cubs (@Cubs) July 24, 2019
Chatwood (for the sake of preventing injury) was replaced after four innings (and only 68 pitches), and then the fifth inning became a bit bizarre for the Cubs as well as a bit stressful for Maddon. Kris Bryant struck out, then failed to return to the game due to injury (knee soreness), then the next batter- Rizzo, struck out and was thrown out for yelling at the umpire. With a nearly depleted Cubs bench and no Bryzzo, play went on.
Anthony Rizzo tossed from this one... definitely not a happy guy right now pic.twitter.com/DByufo0m2X

— Cubs Talk (@NBCSCubs) July 24, 2019
The Cubs' offense was done after Almora's homer, but the bullpen held SF scoreless (Kyle Ryan- 1.2 IP, Rowan Wick- 0.1 IP, Pedro Strop- 1.0 IP, Brandon Kintzler- 1.0 IP).
Craig Kimbrel gets the save, Cubs get the Win (4-1). Time for a day off, then Milwaukee at Wrigley North.

Cubs News, Notes and Commentary:
Cubs/Brewers Probable Pitchers: Saturday, 6:10 PM (ABC-7): RHP Kyle Hendricks (7-8, 3.41 ERA) vs MIL TBD. Sunday, 1:10 PM (ABC-7): Cubs TBS (presumably Cole Hamels), vs Chase Anderson (5-2, 3.90 ERA).
Note: In addition to Milwaukee losing starter, Brandon Woodruff (oblique), Lorenzo Cain was also injured yesterday, while diving for a line drive. Cain reportedly was unable to get up and was being attended to on the field.
Maddon on trades: "We need to get more offensive. I still like the names (in the pen). We just need to figure out how to score more runs." Joe, let me whisper in your ear for a sec; "We need both, buddy."
Russell optioned: Falling in line with Maddon's recent comments about Addison Russell's issues while on base, the Cubs sent the beleaguered shortstop back to Iowa, for an undetermined amount of time. In a corresponding move, Willson Contreras was activated from the IL. I'm hoping this move will also help Garcia emerge as the "everyday" second baseman.
Maddon on Russell demotion: pic.twitter.com/ZWko4McLhK

— Mark Gonzales (@MDGonzales) July 24, 2019
Maddon said Russell took news of demotion well. "I think it's better for everyone. ... it's about the player." Maddon stressed getting Russell back to mindset of 2015-16 seasons

— Mark Gonzales (@MDGonzales) July 24, 2019
Kris Bryant said he saw Russell going over the signs with Butterfield yesterday. Went over for a refresher course himself. Bryant said "It's not like he doesn't care."

— Jesse Rogers (@ESPNChiCubs) July 24, 2019
By the way, let's see now; between Carl Edwards Jr., Russell, Ian Happ, Alec Mills and Cole Hamels (rehab start), the Cubs could just about field an (almost) MLB worthy team in Des Moines.
Change of plans? It would appear that any plans the Cubs had for dealing with the Giants this week (Bumgarner, Watson, Smith), may have come to a screeching halt, based primarily on Chicago's back-to-back losses in San Francisco on Monday and Tuesday night. The Giants have now found themselves in second place in the division, and in a position where a wildcard berth seems to be a reality.
Giants' manager, Bruce Bochy, is set to retire after this season, and reports say many of the players were fearing trades, as they wanted to ride out the season with Bochy. It looks like they may get their wish. I guess the good news is that Milwaukee (ties to Smith and Bumgarner) may not be getting any of these guys either.
Cancel the sale. Pablo Sandoval, himself once thought done, provides yet another walkoff win for the #SFGiants, a team that's making a run no one thought possible.

— Jon Heyman (@JonHeyman) July 24, 2019
More offense, please: After Tuesday's loss, the Cubs are now just 5-10 (.333) in one-run games while on the road. The Cubs (as of Wednesday morning) had 29 road losses total, meaning that 34.5% of the time they lose by one run, when away from Wrigley Field. Great that they can keep the games close; not so great that they aren't generating the necessary offense to score an extra pair of runs for the W.
KB on-road losses: Kris Bryant says, "I don't know how to explain it. Sometimes it goes your way; sometimes it doesn't. It doesn't seem to be going our way this year in terms of one-run games. Score more...it would be nice to get a win that isn't so stressful."
After Tuesday night's loss, Bryant spoke to the media:
Bryant: "just wasn't our night" pic.twitter.com/fGAgbNN1vT

— Mark Gonzales (@MDGonzales) July 24, 2019
More from KB: "Now it's 'let's marinate these losses and be pissed off about it and come get them tomorrow.' "
Cubs may lose a reliever: When the Cubs brought up Tim Collins from Iowa yesterday, they may have burned a bridge, unnecessarily. Collins is now out of options, so the Cubs can either keep him in Chicago, trade him or DFA him, but unless Collins consents, he cannot be forced to go back down to Triple-A.
Collins has no options left, so they can only send him down if they DFA him and risk losing him to another org (and their LHP depth chart is rather thin at the moment).

But not sure about Russell. He's still the backup SS and in case of injury to Javy, they need that in org. https://t.co/03EbC65TsR

— Tony Andracki (@TonyAndracki23) July 24, 2019
Here's to hoping: As much as I'd like to see Ben Zobrist return, I'm sticking with my prediction that he'll retire. Theo Epstein didn't sound confident at all about it last week, even if Maddon still thinks so.
Maddon remains "cautiously optimistic" about Zobrist's return, nothing imminent

— Mark Gonzales (@MDGonzales) July 24, 2019
Baseball Quotes:
If I can help you, it helps us. It's about winning. If you can tell somebody something and it can help the team, that's what you do. -Eddie Murray pic.twitter.com/pnXAAcUzYe

— Baseball Quotes (@BaseballQuotes1) July 24, 2019
Classic MLB moment flashback: Many of you are probably too young to remember, but on this day, July 24, 1983, George Brett of the Royals went berserk, after his bat was ruled to be "illegal" due to the amount of pine tar on it. Brett had just hit a two-run, go-ahead homer in the top of the ninth, putting the Royals up 5-4. Yankees manager, Billy Martin, then argued the bat was illegal, the umps measured the amount of pine tar used and ruled Brett out, negating the homerun. Brett's out made three, and the Yankees ended up winning on the play.
The game was then protested by KC and the AL President upheld the protest and ordered them to play the game out (3 weeks later), starting in the top of the ninth. Ironically, KC would win by a final of 5-4- the same score Brett's homer had produced.
Cubs Birthdays: Celebrating yesterday, were ex-Cubs Miguel Socolovich (33), Jason Smith (42), Mike Adams (71), and posthumously, Preston Ward (92) and Joe Schultz (126).
THIS WEEK'S NL CENTRAL SCHEDULE:
(Wins are in green, losses in red)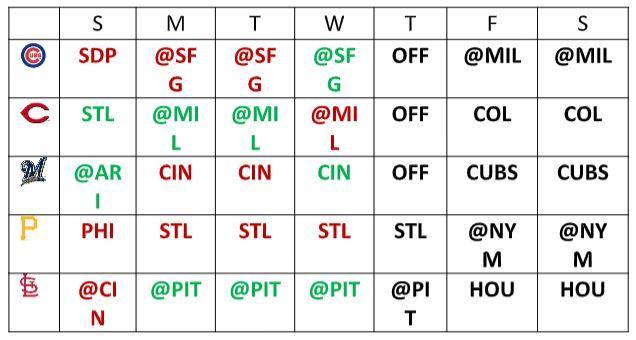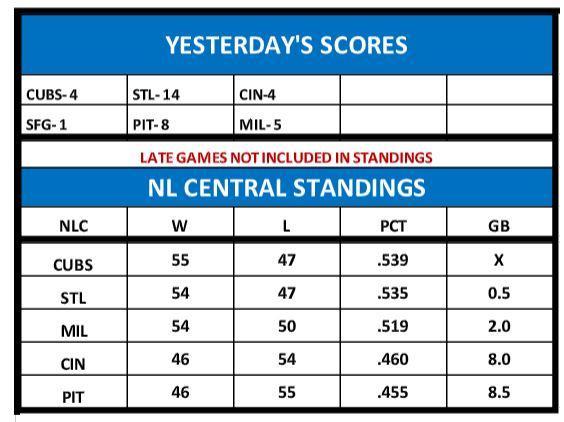 Tags: Cubs Baseball
,
Jose Quintana
,
,
Tyler Chatwood
,
,
,
Albert Almora Jr
,
Anthony Rizzo
,
Kyle Ryan
,
Rowan Wick
,
Pedro Strop
,
Brandon Kintzler
,
Kyle Hendricks
,
Cole Hamels
,
Addison Russell
,
Willson Contreras
,
,
,
Ben Zobrist
,
Joe Maddon
,
Theo Epstein