| | |
| --- | --- |
| Cubs News and Notes: Fly the W, Kimbrel to the IL, Contreras update, Elton Rizzo, more | |
---
| | | |
| --- | --- | --- |
| Tuesday, August 6, 2019, 8:09 AM | | |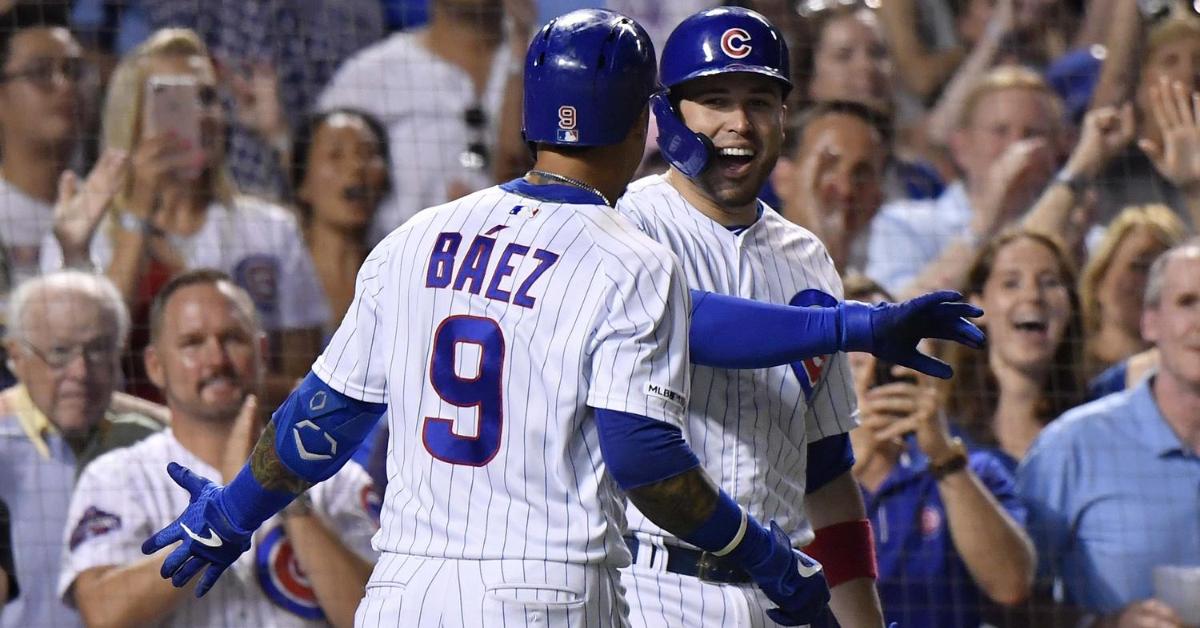 Next Game: Today 7:05 PM: LHP Jon Lester (9-7, 3.86 ERA) vs LHP Brett Anderson (9-7, 4.04 ERA). (NBC Sports Chicago, MLB Network- out of market only)
Monday night's game recap:
If I live to be 100 (highly doubtful), I'll never get used to seeing inter-league play. Nonetheless, the Cubs and Oakland began a three-game set last night at the Friendly Confines, as the Cubs continue their quest to remain in first place in the NL Central.
In my series preview, I predicted the Cubs would take two of the three, but that was written just before Craig Kimbrel was announced as being injured. Is there any do-overs? I think the Cubs can still beat Oakland without him (and without Willson Contreras, who's now apparently worse than we thought), but they're going to have to work for it.
With the temperature at an uncomfortably humid 88 degrees and with the wind blowing out, the Professor took to the mound to face LHP Chris Bassitt.
After Hendricks blazed through the first, the Cubs got an early 1-0 lead on this gem by, who else? Nicholas Castellanos- his first in blue pinstripes.
Nicholas Castellanos hits his first home run as a Cub!#EverybodyIn pic.twitter.com/NMivVA21oM

— Chicago Cubs (@Cubs) August 6, 2019
The A's would take the lead in the third when Semien tagged Hendricks for a two-run homer to right. Cubs trail 2-1.
Javy came to the rescue in the sixth (454 feet). Game tied at two.
L-A-R-G-E#EverybodyIn pic.twitter.com/Eh6iAjgwnt

— Chicago Cubs (@Cubs) August 6, 2019
In the bottom of the seventh, the Cubs broke it open, starting with an absolute blast (474 foot) by Ian Happ, who was leading off the innings as a pinch hitter. I may not be Happ's biggest fan, but I'll always give credit when due, and this was a monster.
A 474' pinch-hit home run from @ihapp_1! #EverybodyIn pic.twitter.com/jtT4N69rj3

— Chicago Cubs (@Cubs) August 6, 2019
The Cubs weren't quite done yet. After Jason Heyward singled, Nick Castellanos blasted an RBI double into left-center, scoring J-Hey. Two batters later, Javy did this:
On the 5-year anniversary of his 1st career home run, @javy23baez hits a pair!#EverybodyIn pic.twitter.com/RnuLEjS11M

— Chicago Cubs (@Cubs) August 6, 2019
Cubs lead 6-2.
Steve Cishek would unravel progress in a hurry, first giving up a double, then a two-run blast to Martini, then another dinger to the next batter (Semien). A total of 31 pitches later, the score was 6-4 (Cubs), and the A's had the tying run on first, as Cishek walked the next batter. Joe Maddon finally got the novel idea to grab a new pitcher (Brandon Kintzler), as Oakland was now bringing the go-ahead run to the plate. Things got intense, but Kintzler held steady. Cubs lead 6-5 after 7-1/2 innings.
Going into the ninth, Craig Kimbrel should have emerged from the Cubs' bullpen, but due to injury, it was instead, Kyle Ryan and David Phelps. This one just about got away from Phelps, but in the end, the Cubs would win it 6-5. (Rowan Wick earned the win; Phelps got the save.)
CUBS NEWS AND NOTES
Cubs/Athletics Probable Pitchers: Wednesday, 1:20 PM: LHP Jose Quintana (9-7, 4.40 ERA) vs RHP Homer Bailey (9-7, 5.20 ERA).
The Injury Bug Bites: Craig Kimbrel was sent to the IL yesterday (10-day) for right knee inflammation (Duane Underwood, Jr. was recalled).
Craig Kimbrel headed to IL, reliever recalled: https://t.co/YecxyFPUYz pic.twitter.com/VUwgb86HEx

— CubsHQ (@ChicagoCubsHQ) August 5, 2019
Kimbrel on knee inflammation pic.twitter.com/iae4CU1qio

— Mark Gonzales (@MDGonzales) August 5, 2019
More Kimbrel pic.twitter.com/ku6Hch02LG

— Mark Gonzales (@MDGonzales) August 5, 2019
Lest we forget, Pedro Strop is still on the IL, so look for Brandon Kintzler- or possibly Tyler Chatwood to become the closers. ESPN 1000's Waddle and Silvy posted a poll on Twitter, asking who should now close for the Cubs during Kimbrel's IL stint. Tyler Chatwood earned 18% of the vote, Steve Cishek 19%, and Brandon Kintzler and Rowan Wick tied at 32% (1774 total votes).
Then there's Willson Contreras (now expected to miss approximately four weeks, due to a Grade-2 hamstring injury), and Kris Bryant- though not on the IL- yet- was still battling his knee issue.
Cubs make it official. Willson Contreras out for four weeks with hamstring strain. Closer Craig Kimbrel to 10 day DL with right knee inflammation. Felt it during his last outing. Cubs don't expect it to be much more than 10 days, retroactive to yesterday.

— Jeff Arnold (@JeffArnold_) August 5, 2019
Contreras: "I knew there was something wrong" pic.twitter.com/sUYwv50Nam

— Mark Gonzales (@MDGonzales) August 5, 2019
On a positive note, Kyle Schwarber's natural position is catching, and although he hasn't done so since late 2017, he's eager to get behind the plate.
Maddon confirmed Schwarber is Cubs' emergency catcher:

"Oh yeah. He was already talking to me yesterday about wanting to start a game back there."

— Tony Andracki (@TonyAndracki23) August 5, 2019
In recent year's past, the Cubs have been hesitant to us Schwarber behind the plate, worrying mostly about his past knee injury (ACL) and his speed out of the crouch, due to his "husky" build. Although he may be a little out of practice, playing behind the plate, Bam-Bam appears to be in great physical shape. He's slimmed way down since 2017, and the knee has not caused any issues.
Although the trade deadline has passed, there are some catchers out there that the Cubs could sign (Jonathon Lucroy is a free agent, as is Nick Hundley). There were reports that Schwarbs was seen with a catcher's mitt during practice yesterday. With Nick Castellanos in the lineup and Ian Happ available off the bench, the outfield has become crowded again, and I wouldn't mind seeing Maddon give Schwarbs a shot at playing backstop. His bat has been intermittently golden, and he does have a shotgun arm. Still, his experience alone could outweigh the benefits that Taylor Davis can provide.
Maddon said he'll pair Caratini with Darvish and Lester. He'll get a day when one of the other 3 pitches. Says the front office is def looking to add catching via means possible. Schwarber is 3rd string and "asking to start" a game, per Joe.

— Jesse Rogers (@ESPNChiCubs) August 5, 2019
Yu: Yu Darvish has been a beast. The end.
.@faridyu has struck out 38 batters and walked only two in his last five starts (29 IP). pic.twitter.com/HBrNrXuAwp

— Chicago Cubs (@Cubs) August 5, 2019
Schedule Update: Those of you who live in blackout areas may benefit from the following:
Cubs-Cardinals game on Thursday, Sept. 19 game has been selected for a national exclusive telecast by FOX and now scheduled to begin at 6:15 p.m. CDT.

— Mark Gonzales (@MDGonzales) August 5, 2019
Maddon on Castellanos: The other day, I shared a partial quote from Joe Maddon, about how Nick Castellanos was bringing hunger back to the Cubs. I've since learned that Joe had plenty more to say that same day: "He's reminding us what hunger looks like. This guy, he's really happy to be here and play in this ballpark, and he wants to get to the postseason badly. I love what he's doing. Every day, conversationally, his work — everything about him indicates 'Let's go; I want to play in October.' And I love it."
Cubs' Notes: Jason Heyward is batting .331 with a .370 on-base percentage, a .598 slugging percentage and a .969 OPS in last 34 games since June 22. Heyward's .331 average in that span 4th in NL. Heyward's .825 OPS is 94 points higher than his .731 OPS in 2018.
Since June 6, left-handed hitters are 4-for-31 with no extra-base hits and just one walk vs. LHP Kyle Ryan. Ryan now has a 1.21 ERA during this 24-game stretch.
Brad Brach: As expected, former Cubs' right-hander has cleared waivers and has been granted his release. Brach is now free to sign with whomever he wishes, as he is now a free agent.
Brad Brach cleared waivers and was granted his release.

— Sahadev Sharma (@sahadevsharma) August 5, 2019
Picture day: Ever try getting like 50 guys into one picture? Wide-angle lens please…
Places everyone! Say cheese!

???? @Cubs Team Photo Day ?? pic.twitter.com/6ycDJIe6YZ

— Cubs Talk (@NBCSCubs) August 5, 2019
Elton Rizzo? Anthony Rizzo likes to "sing," and he did so at Cole Hamels' charity benefit on Sunday night. Rizz decided to try to tackle an Elton John song (emphasis on "tried") **Note to self"- don't go to karaoke with Rizz… Just kidding Rizz, you're the best.
???????@ARizzo44's solo. pic.twitter.com/w4M3zIglo6

— Chicago Cubs (@Cubs) August 5, 2019
Baseball Quotes: "I throw as hard as I can when I think I have to throw as hard as I can." -Walter Johnson
You must try to generate happiness within yourself. If you aren't happy in one place, chances are you won't be happy anyplace. -Ernie Banks pic.twitter.com/Bgdf4BGap5

— Baseball Quotes (@BaseballQuotes1) August 5, 2019
Cubs Birthdays: Celebrating yesterday, were ex-Cubs Tim Federowicz (32) and posthumously, Tony Jacobs (94) and Ralph "Rube" Novotney (95).
THIS WEEK'S NL CENTRAL SCHEDULE:
(Wins in green, losses in red)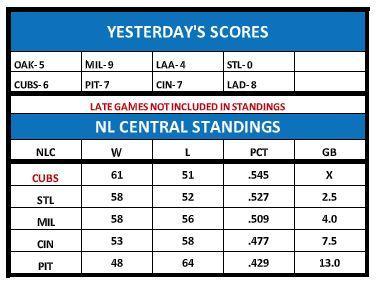 Tags: Cubs Baseball
,
,
Brett Anderson
,
Willson Contreras
,
,
Jason Heyward
,
Steve Cishek
,
Brandon Kintzler
,
Kyle Ryan
,
Rowan Wick
,
Jose Quintana
,
Duane Underwood
,
Pedro Strop
,
Tyler Chatwood
,
,
Kyle Schwarber
,
Taylor Davis
,
Yu Darvish
,
Anthony Rizzo
,
Cole Hamels
,
Joe Maddon